How to Take the Doors off Your Jeep Wrangler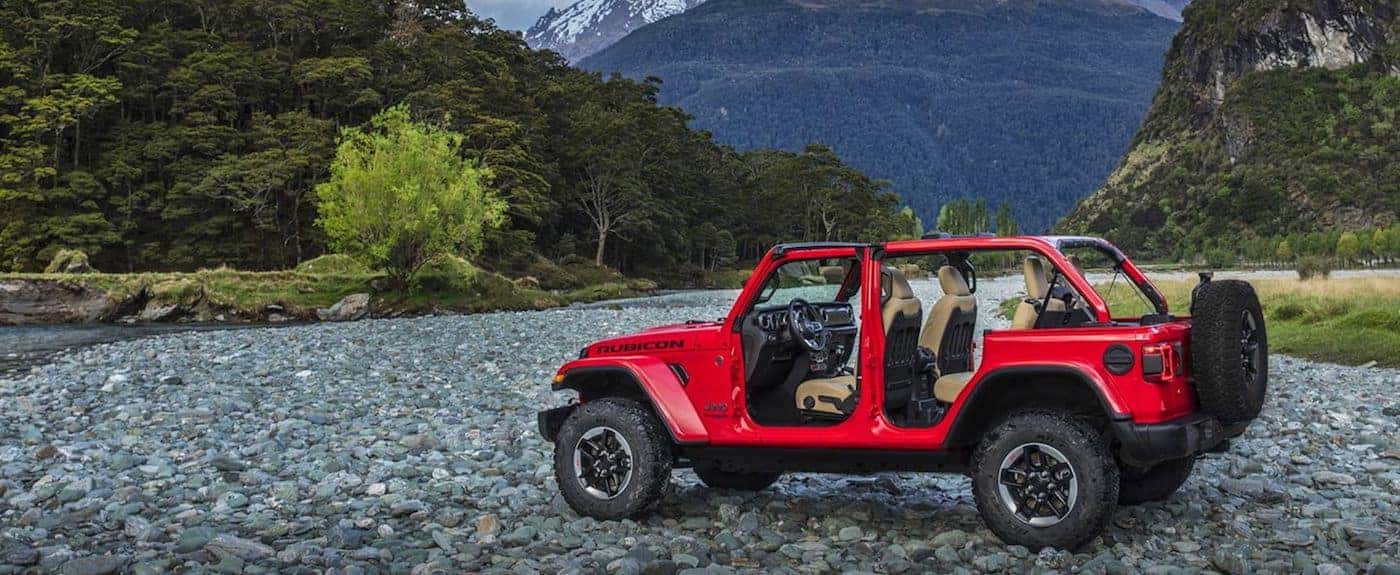 Any Austin driver with a thirst for off-road adventure is going to be attracted to a new or used Jeep. Outclassing competitors with ease, they feature everything from powerful engine specs to removable and added parts and accessories. If you want to learn how to take the doors off a Jeep Wrangler, simply read on for an easy guide.
How To Remove the Doors on a Jeep Wrangler
You need to start by bringing down the windows – if your model has windows – to ensure the glass is protected before you take off the doors. Once that's done, follow these steps:
Disconnect any power cables. Remove the footwell under your dash or by the B-pillar to do so. They should pop off by removing the clips.
Gently lift the door straps off at the hooks to remove them.
Remove the door hinge bolts and gently slide the door off and away.
Once that's done, you'll be able to enjoy doorless driving around Round Rock and Cedar Park. Just make sure you store the detached doors in a safe and dry place. You should also lube the door hinges to help the door slide off without effort the next time you remove them from your Wrangler.
Why Should You Take the Doors Off Your Jeep Wrangler?
One thing you might be wondering is why you should ever take the doors off your Jeep Wrangler. It might seem like an odd thing to do, but there are numerous reasons why you should.
For example, keeping your doors off provides a more immersive drive when you're traveling off the beaten path – that's one reason outdoor enthusiasts rave about the Jeep Wrangler. Removing the doors also helps reduce fuel consumption, which is especially useful for longer drives into the wild.
Let the Experts at Covert Chrysler Dodge Jeep Ram Answer All Your Questions
Whether you want to know how to take a top off a Jeep or how to lift a Jeep Wrangler, our team can help. To find out more about the new Jeep Wrangler or explore the latest Jeep parts and accessories, don't hesitate to visit the showroom or contact us today. Discover the off-road-ready wash-out Jeep Wrangler interior with Covert Chrysler Dodge Jeep Ram!
More From Covert Chrysler Dodge Jeep Ram
Not sure what to expect from your first RAM service appointment? Routine maintenance is key to keeping your RAM truck running for years to come, so it's best to be prepared. Our team at Covert Chrysler Dodge Jeep® RAM put together a guide on some questions to ask your RAM mechanic before and after your…

When you've found the perfect vehicle, the last thing you want to worry about is how to take it home. That's where our friendly Jeep financing team comes in to help you out. At Covert Chrysler Dodge Jeep® RAM, we're here to walk you through the financing process step-by-step so that you can take home…

For Austin drivers, Jeeps are the essential off-road and adventure vehicles. The 2021 Jeep Renegade price is something to consider when you're looking to purchase a new model, because of the different trims available to you. Jeep Renegade InventoryContact Us The 2021 Jeep Renegade MSRP for the base model is $22,850, but you can…