How to Lease a Jeep® Wrangler at Covert Chrysler Dodge Jeep RAM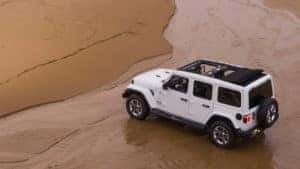 The wait is over to get behind the wheel of an iconic SUV that is as stylish as it is capable. Head to Covert Chrysler Dodge Jeep® RAM to secure a Jeep Wrangler lease and begin your adventure in this rugged model today. Meet with one of our RAM truck Killeen dealers to take a test drive and learn the benefits of leasing today.
Advantages of Leasing
If you're interested in driving a brand new car without the commitment of owning it for years to come, leasing is an excellent option to consider. A lease agreement is essentially borrowing money from a financial institution to "rent" a car for a set time frame, usually 36 months.
Drivers choose this route because payments are oftentimes more affordable and most repair costs are included in the terms. It is also an ideal way to drive new, reliable, and innovative Jeeps for sale at all times. At the end of your agreement, you may walk away, trade it in for a new leased car, or purchase it.
There are certain situations in which leasing may not be an ideal choice. Due to a mileage cap, leasing is best for drivers with shorter commutes and that don't plan on taking many long road trips. Customization is not an option for leased models, so you may want to reconsider if you enjoy adding or removing accessories from your cars.
How to Lease a Jeep Wrangler
To begin the process of leasing a Jeep Wrangler, we invite you to choose the trim level that aligns with your needs then sit with our Jeep financing team to walk through the process. We will gather information about your financial standing and work to find a monthly payment that works for you.
Visit us today at Covert Chrysler Dodge Jeep RAM to get behind the wheel of a new SUV today!